Products tagged with Goggles
The Interchangeable Rx System is designed for both the OTW goggle and Aegis eyeshield. One Rx carrier can be used in either product. The Smith Elite Rx carrier is engineered to accommodate corrections up to +/- 11 diopters. The kit comes with everyth...
€29,95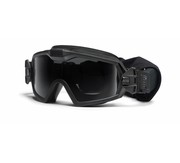 The OTW Turbo Fan goggle is reliable, effective, lightweight and quiet. The fan efficiently and silently evacuates moist air out and away from the inner lens to keep you fog free.
€149,00

Protection where you need it!
€89,90