Climbing
Packaged as an emergency set-up, the Rigger's Belt comes with a single mesh sling that folds into two leg loops and attaches to the belt to form an emergency harness.
€139,00

Arc'teryx X350a Harness is a supple, lightweight and low profile fully adjustable harness. It delivers supporior comfort and can be worn comfortably under armour or thigh rig.
€159,00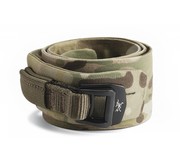 Arc'teryx H150 Riggers Belt is a highly packable utility belt which spreads the load across the belt. Supports holsters, sub-loads and pouches.
€99,00